12 Must-Read Success Books to Get More From Life
Learning is your shortcut to success. No time spent learning new skills you can use is ever wasted. Below is a list of books that will change your life and lead you to massive success :
1. Eat That Frog!: 21 Great Ways to Stop Procrastinating and Get More Done in Less Time
by Brian Tracy, 2001
There's an old saying that if the first thing you do each morning is to eat a live frog, you'll have the satisfaction of knowing that it's probably the worst thing you'll do all day. Using "eat that frog" as a metaphor for tackling the most challenging task of your day—the one you are most likely to procrastinate on, but also probably the one that can have the greatest positive impact on your life—Eat That Frog! shows you how to zero in on these critical tasks and organize your day. You'll not only get more done faster, but get the right things done.
Reviews | "BEWARE: This book will have a profound impact on your working practices and the results you'll achieve. Eat That Frog! challenges your working practices, it explains the self-discipline needed to succeed, and [it] firmly gets to the root cause of why people procrastinate. Then it effortlessly explains how to boost your productivity once and for all."
—Micro Business Hub
"If you find procrastination to be a consistent problem in your life, Eat
That Frog! offers a concise and valuable collection of tactics to try. The reasons for each person's procrastination are different, so it's good that Tracy's tactics are fairly diverse and attack many different avenues of procrastination."
—The Simple Dollar
"Eat That Frog! is my favourite book on productivity, and I often find myself rereading it in January to remind myself of the disciplines and practices I'd like to follow in the coming year. Each time I read the book, I find new nuggets of productivity gold."
—Liz Gooster, Change for the Better
2. Think and Grow Rich
by Napoleon Hill, 1937
Think and Grow Rich, based on the author's famed Law of Success, represents the distilled wisdom of distinguished men of great wealth and achievement.
This book will teach you that secret—and the secrets of other great men like him. It will show you not only what to do but also how to do it. If you learn and apply the simple basic techniques revealed here, you will have mastered the secret of true and lasting success—and you may have whatever you want in life!
Reviews | "During the past twenty-five years I have been blessed with more good fortune than any individual deserves but I shudder to think where I'd be today, or what I'd be doing if I had not been exposed to Napoleon Hill's philosophy. It changed my life."
--Og Mandino, The Greatest Salesman in the World
3. The Success Principles
by Jack Canfield, 2004
The Success Principles™ will teach you how to increase your confidence, tackle daily challenges, live with passion and purpose, and realize all your ambitions. Not merely a collection of good ideas, this book spells out the 64 timeless principles used by successful men and women throughout history. Taken together and practiced every day, these principles will transform your life beyond your wildest dreams!
Reviews | "Canfield's principles are simple, but the results you'll achieve will be extraordinary!" (Anthony Robbins, author of Awaken the Giant Within and Unlimited Power)
"If you could read only one book this year, you have it in your hands." (Harvey Mackay, author of the New York Times #1 bestseller Swim with the Sharks without Being Eaten Alive)
4. The Subtle Art of Not Giving a F*ck
by Mark Manson, 2016
There are only so many things we can give a f**k about so we need to figure out which ones really matter, Manson makes clear. While money is nice, caring about what you do with your life is better, because true wealth is about experience. A much-needed grab-you-by-the-shoulders-and-look-you-in-the-eye moment of real-talk, filled with entertaining stories and profane, ruthless humor, The Subtle Art of Not Giving a F**k is a refreshing slap for a generation to help them lead contented, grounded lives.
Reviews |"The opposite of every other book. Don't try. Give up. Be wrong. Lower your standards. Stop believing in yourself. Follow the pain. Each point is profoundly true, useful, and more powerful than the usual positivity. Succinct but surprisingly deep, I read it in one night." (Derek Sivers, Founder of CD Baby and author of Anything You Want: 40 Lessons for a New Kind of Entrepreneur)
"Resilience, happiness and freedom come from knowing what to care about--and most importantly, what not to care about. This is a masterful, philosophical and practical book that will give readers the wisdom to be able to do just that." (Ryan Holiday, New York Times bestselling author of The Obstacle is the Way and Ego is the Enemy)
5. Rich Dad Poor Dad
by Robert Kiyosaki, 1997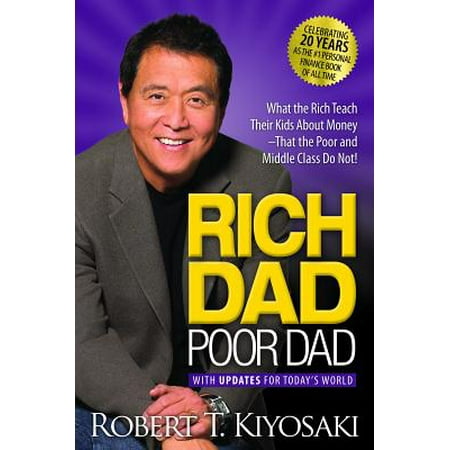 In Rich Dad Poor Dad, the #1 Personal Finance book of all time, Robert Kiyosaki shares the story of his two dad: his real father, whom he calls his 'poor dad,' and the father of his best friend, the man who became his mentor and his 'rich dad.' One man was well educated and an employee all his life, the other's education was "street smarts" over traditional classroom education and he took the path of entrepreneurship…a road that led him to become one of the wealthiest men in Hawaii. Robert's poor dad struggled financially all his life, and these two dads—these very different points of view of money, investing, and employment—shaped Robert's thinking about money.
Robert has challenged and changed the way tens of millions of people, around the world, think about money and investing and he has become a global advocate for financial education and the path to financial freedom.
Reviews | "If you want all insider wisdom on how to personally get and STAY rich, read this book! Bribe your kids (financially, if you have to) to do the same." --Mark Victor Hansen, co-author of the #1 Chicken Soup for the Soul series
6. How to Win Friends and Influence People
by Dale Carnegie, 1936
Dale Carnegie's rock-solid, time-tested advice has carried countless people up the ladder of success in their business and personal lives. One of the most groundbreaking and timeless bestsellers of all time, How to Win Friends & Influence People will teach you:
-Six ways to make people like you
-Twelve ways to win people to your way of thinking
-Nine ways to change people without arousing resentment
And much more! Achieve your maximum potential—a must-read for the twenty-first century with more than 15 million copies sold!
7. The Millionaire Next Door
by Thomas Stanley & William Danko, 1996
The bestselling The Millionaire Next Door identifies seven common traits that show up again and again among those who have accumulated wealth. Most of the truly wealthy in this country don't live in Beverly Hills or on Park Avenue-they live next door.
Reviews | The implication of The Millionaire Next Door...is that nearly anybody with a steady job can amass a tidy fortune., -Forbes
The kind of information that could lift the economic prospects of individuals more than any government policy...The Millionaire Next Door has a theme that I think rings very true..."Hey, I can do it. You can do it too!" -- Rush Limbaugh
8. 7 Habits of Highly Effective People
by Stephen Covey, 1989
In The 7 Habits of Highly Effective People, author Stephen R. Covey presents a holistic, integrated, principle-centered approach for solving personal and professional problems. With penetrating insights and pointed anecdotes, Covey reveals a step-by-step pathway for living with fairness, integrity, service, and human dignity--principles that give us the security to adapt to change and the wisdom and power to take advantage of the opportunities that change creates.
Reviews | "Picture someone going through the best experience they've ever had in terms of training -- that's what they say. People credit the 7 Habits with changing their lives, with getting back on track personally and professionally." - Ken M. Radziwanowski AT&T School of Business
9. Goals!: How to Get Everything You Want -- Faster Than You Ever Thought Possible
by Brian Tracy, 2001
The path from frustration to fulfillment has already been discovered. Hundreds of thousands—even millions—of people started with nothing and achieved great success. In this book, Tracy presents a simple, powerful, and effective system for setting and achieving goals—a method that has been used by more than one million people to achieve extraordinary things.
Using the twenty-one strategies Tracy outlines, you'll be able to accomplish any goal you set for yourself—no matter how big. You'll discover how to determine your own strengths, what you truly value in life, and what you really want to accomplish in the years ahead. Tracy shows how to build your self-esteem and self-confidence, approach every problem or obstacle effectively, overcome difficulties, respond to challenges, and continue forward toward your goals, no matter what happens. Most importantly, you'll learn a system for achievement that you will use for the rest of your life.
10. Million Dollar Habits: Proven Power Practices to Double and Triple Your Income
by Brian Tracy, 2001
95% of what people think, feel and do, is determined by habits. Habits are ingrained but not unchangeable—new, positive habits can be learned to replace worn-out, ineffective practices with optimal behaviors that can cause dramatic, immediate benefits to the bottom line.
In Million Dollar Habits, Tracy teaches readers how to develop the habits of successful men and women so they too can think more effectively, make better decisions, and ultimately double or triple their income. Readers will learn how to organize their finances, increase health and vitality, sustain loving relationships, build financial independence, and take a leadership role to turn visions into reality.
11. Big Magic
by Elizabeth Gilbert, 2015
This beloved author digs deep into her own generative process to share her wisdom and unique perspective about creativity. With profound empathy and radiant generosity, she offers potent insights into the mysterious nature of inspiration. She asks us to embrace our curiosity and let go of needless suffering. She shows us how to tackle what we most love, and how to face down what we most fear. She discusses the attitudes, approaches, and habits we need in order to live our most creative lives. Balancing between soulful spirituality and cheerful pragmatism, Gilbert encourages us to uncover the "strange jewels" that are hidden within each of us. Whether we are looking to write a book, make art, find new ways to address challenges in our work, embark on a dream long deferred, or simply infuse our everyday lives with more mindfulness and passion, Big Magic cracks open a world of wonder and joy.
Reviews |"Big Magic is a celebration of a creative life…Gilbert's love of creativity is infectious, and there's a lot of great advice in this sunny book…Gilbert doesn't just call for aspiring artists to speak their truth, however daffy that may appear to others; she is showing them how." —Washington Post
"In [Gilbert's] first foray into full-on self-help [she] shares intimate glimpses into the life of a world-famous creative, complete with bouts of paralyzing fear and frustration, in an attempt to coax the rest of us into walking through the world just a little bit braver." —Elle
"The Eat, Pray, Love author demystifies the tricky business of creativity. We're all ears." —Cosmopolitan
"Elizabeth Gilbert is my new spirit animal… I have profoundly changed my approach to creating since I read this book." —Huffington Post
12. Awaken the Giant Within
by Tony Robbins, 1991
Anthony Robbins, the nation's leader in the science of peak performance, shows you his most effective strategies and techniques for mastering your emotions, your body, your relationships, your finances, and your life.
The acknowledged expert in the psychology of change, Anthony Robbins provides a step-by-step program teaching the fundamental lessons of self-mastery that will enable you to discover your true purpose, take control of your life, and harness the forces that shape your destiny.
Reviews | « Astonishing credibility...every page bursts with well-researched and immediately practical guidelines for concentrating your thoughts and emotions on the attainment of your goals. » - Scott DeGarmo Editor-in-Chief and Publisher, Success magazine
Our Take
Keep in mind that simply reading one of these books (or even all of them) won't change your life all by itself. Books are meant to give you the tools and information that you must apply to see change. Mere information is powerless without application. So while reading any book, think of ways you can apply what you're reading to your life, write them down and try to apply one thing at a time.
What are your favorite books?
If you have other books you'd like to recommend, let me know in the comments! I'm always looking for more great books to read.
Pint it!