10 Top Books for Dealing with Anxiety and Depression
Depression and anxiety suck, but there are still a few ways that can help you cope with them. Even if none of the following books can make depression and anxiety go away overnight, it's still no excuse for you not to make an effort and be patient.
Below is a list of the best books to help you cope with anxiety, according to psychologists. These books will help you understand your anxiety and depression better and make you feel less alone but most importantly, they'll give you an action plan to help you cope with them better.
1. Feeling Good: The New Mood Therapy
By David D. Burns, M.D.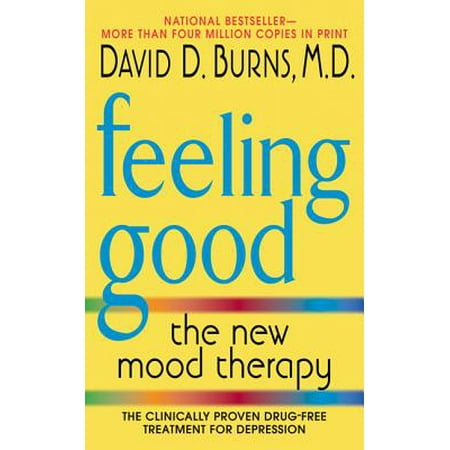 In Feeling Good, eminent psychiatrist, David D. Burns, M.D., outlines the remarkable, scientifically proven techniques that will immediately lift your spirits and help you develop a positive outlook on life. Now, in this updated edition, Dr. Burns adds an All-New Consumer′s Guide To Anti-depressant Drugs as well as a new introduction to help answer your questions about the many options available for treating depression.
Reviews:
"A book to read and re-read!"-Los Angeles Times
2. The happiness trap: How to Stop Struggling and Start Living: A Guide to ACT
by Russ Harris
Are you, like millions of Americans, caught in the happiness trap? Russ Harris explains that the way most of us go about trying to find happiness ends up making us miserable, driving the epidemics of stress, anxiety, and depression. This empowering book presents the insights and techniques of ACT (Acceptance and Commitment Therapy) a revolutionary new psychotherapy based on cutting-edge research in behavioral psychology. By clarifying your values and developing mindfulness (a technique for living fully in the present moment), ACT helps you escape the happiness trap and find true satisfaction in life.
The techniques presented in The Happiness Trap will help readers to:
Reduce stress and worry

Handle painful feelings and thoughts more effectively

Break self-defeating habits

Overcome insecurity and self-doubt

Create a rich, full, and meaningful life
Reviews:
"Carefully and creatively presents techniques that anyone can use to undermine struggle, avoidance, and loss of the moment. Harris systematically explores how we get into the 'happiness trap' and then shines a powerful beacon showing us another way forward."—Steven Hayes, PhD, author of Get Out of Your Mind and Into Your Life
"Eminently practical and readable. This book reveals that when calibrating one's life according to acceptance and valued action, happiness is a pleasant sideshow in the larger carnival of an engaged and purposeful existence."—Zindel Segal, PhD, author of The Mindful Way through Depression
"An exciting alternative to the usual approach of so many self-help books. Harris explains how we can work with ourselves as we are, rather than aggressively trying to alter ourselves. I'm impressed by the simple and effective methods of ACT."—David Richo, PhD, author of The Five Things We Cannot Change
Joan Mathews Larson, Ph.D., the brilliant nutritionist who founded Minnesota's esteemed Health Recovery Center, offers her revolutionary formulas for healing your emotions--biochemically. Twenty years of working with both addicted and nonaddicted patients has shown Larson that unhealthy and unstable moods are the result of the chemistry of our physical brains and are not psychological in origin. When you feed your imbalanced brain what it craves--the key essential fatty acids (EFAs), natural mind-body hormones, and the right amino acids--most mood swings, depressions, anxiety, and other upsets will disappear, even if they have a genetic basis.
Through proven all-natural formulas, Seven Weeks to Emotional Healing will help you find the emotional stability and well-being you've been missing your entire life. Inside you'll discover how to:
Screen yourself for emotional and behavioral symptoms

Recognize the mental and physical clues that indicate biochemical imbalances

Find an open-minded health practitioner

Eat the right foods for optimal mental fitness
Dr. Larson also provides her unique anti-aging formula that restores sexual function, rejuvenates the immune system, elevates mood and energy levels, reduces stress, and expands your life span!
4. The Anxiety & Phobia Workbook
By Edmund J. Bourne, Ph.D.
The Anxiety and Phobia Workbook has already helped over one million readers make a full and lasting recovery from generalized anxiety disorder, social anxiety, specific phobias, panic attacks, obsessive-compulsive disorder, and other anxiety-related issues. Packed with the most effective skills for assessing and treating anxiety, this workbook can be used alone or as a supplement to therapy to help you develop a full arsenal of skills for quieting worried thoughts and putting yourself back in control.
This new edition has been thoroughly updated with the latest anxiety research and medications, and also includes new therapeutic techniques that have been proven effective for the treatment of anxiety and anxiety-related conditions. Each worksheet in this book will help you learn the skills you need to manage your anxiety and start living more freely than you ever thought possible.
With this workbook, you'll learn a range of proven methods for overcoming anxiety:
Relaxation and breathing techniques

Challenging negative self-talk and mistaken beliefs

Imagery and real-life desensitization

Making lifestyle, nutrition, and exercise changes

Acceptance and commitment therapy

Skills for preventing and coping with panic attacks
Reviews:
"Any who've struggled with panic attacks and fears will find this packed with self-help exercises and guidelines to overcoming anxiety and stress, from understanding how to assert oneself to creating a positive recovery strategy."—Midwest Book Review
"This workbook offers a practical and comprehensive guide to anyone struggling to cope with the many-faceted manifestations of panic and anxiety."—Child & Behavior Therapy
If you've ever struggled with depression, take heart. Mindfulness, a simple yet powerful way of paying attention to your most difficult emotions and life experiences, can help you break the cycle of chronic unhappiness once and for all.
In The Mindful Way through Depression, four uniquely qualified experts explain why our usual attempts to "think" our way out of a bad mood or just "snap out of it" lead us deeper into the downward spiral. Through insightful lessons drawn from both Eastern meditative traditions and cognitive therapy, they demonstrate how to sidestep the mental habits that lead to despair, including rumination and self-blame, so you can face life's challenges with greater resilience. Jon Kabat-Zinn gently and encouragingly narrates the accompanying CD of guided meditations, making this a complete package for anyone seeking to regain a sense of hope and well-being.
Reviews:
"Using mindfulness training to prevent and treat depression is a novel strategy in the West, though it is a traditional application of Eastern meditation practice. Whether you struggle with depression or simply want to understand your mind and emotions better, you will find this book accessible and useful. Depression is epidemic in our society, and I would love to see this sensible treatment approach gain ground." –Andrew Weil, MD, author of 8 Weeks to Optimum Health and Healthy Aging
"A revolutionary treatment approach. For depression sufferers, this is a truly useful guide to achieving emotional balance. For mental health professionals, it should be mandatory reading. I recommend this book and companion CDmost highly." –Daniel Goleman, PhD, author of Emotional Intelligence
"An invaluable resource not only for those who suffer from depression, but for anyone familiar with the downward spiral of negative thinking and self-doubt. The authors of this book explore the reasons for depression and give us guidance and support, along with useful tools to find a way through it." --Sharon Salzberg, author of Lovingkindness and Real Love
6. The Upward Spiral: Using Neuroscience to Reverse the Course of Depression, One Small Change at a Time
by Alex Korb PhD
Depression can feel like a downward spiral, pulling you into a vortex of sadness, fatigue, and apathy. In The Upward Spiral, neuroscientist Alex Korb demystifies the intricate brain processes that cause depression and offers a practical and effective approach to getting better. Based on the latest research in neuroscience, this book provides dozens of straightforward tips you can do every day to rewire your brain and create an upward spiral towards a happier, healthier life.
Whether you suffer from depression or just want a better understanding of the brain, this book offers an engaging and informative look at the neuroscience behind our emotions, thoughts, and actions. The truth is that there isn't one big solution to depression, but there are numerous simple steps you can take to alter brain activity and chemistry. Some are as easy as relaxing certain muscles to reduce anxiety, or getting more sunlight to improve your mood. Small steps in the right direction can have profound effects―giving you the power to become your best self as you literally reshape your brain, one small change at a time.
Reviews:
"Alex Korb's The Upward Spiral is a masterful account of the neuroscience behind depression, as well as of concrete steps that will lead to an 'upward spiral' out of depression. Korb explains neuroscience in a clear and accessible way, and shows how various brain malfunctions lead to different symptoms of depression. … Throughout the [book], Korb circles back to some of his own experiences, making his account all the more powerful and real. This book is a must-read for those who struggle with depression and want some guidance on how to understand and manage it―as well as for therapists who want to learn more about the neuroscience of depression and its treatment." ―Elyn Saks, Orrin B. Evans Professor of law, psychology, psychiatry, and the behavioral sciences at the University of Southern California Gould School of Law, and author of The Center Cannot Hold
"Alex Korb's The Upward Spiral is a clear and engaging explanation of the neuroscience behind depression. Korb sheds light on this mysterious and often misunderstood disorder, and, in the process, enlightens the reader about the basics of the brain and how it shapes―and is shaped by―our moods, motivations, decisions, and actions."―Anson Dorrance, head coach of the UNC-Chapel Hill Women's Soccer team and coauthor of The Vision of a Champion
The father of the new science of positive psychology and author of Authentic Happiness draws on more than twenty years of clinical research to demonstrate how optimism enhances the quality of life, and how anyone can learn to practice it. Offering many simple techniques, Dr. Seligman explains how to break an "I—give-up" habit, develop a more constructive explanatory style for interpreting your behavior, and experience the benefits of a more positive interior dialogue. These skills can help break up depression, boost your immune system, better develop your potential, and make you happier.
With generous additional advice on how to encourage optimistic behavior at school, at work and in children, Learned Optimism is both profound and practical–and valuable for every phase of life.
Reviews:
"Vaulted me out of my funk.... So, fellow moderate pessimists, go buy this book." —Marian Sandmaier, The New York Times Book Review
8. The Noonday Demon: An Atlas of Depression
by Andrew Solomon
The Noonday Demon examines depression in personal, cultural, and scientific terms. Drawing on his own struggles with the illness and interviews with fellow sufferers, doctors and scientists, policymakers and politicians, drug designers, and philosophers, Andrew Solomon reveals the subtle complexities and sheer agony of the disease as well as the reasons for hope. He confronts the challenge of defining the illness and describes the vast range of available medications and treatments, and the impact the malady has on various demographic populations—around the world and throughout history. He also explores the thorny patch of moral and ethical questions posed by biological explanations for mental illness. With uncommon humanity, candor, wit, and erudition, award-winning author Solomon takes readers on a journey of incomparable range and resonance into the most pervasive of family secrets. His contribution to our understanding not only of mental illness but also of the human condition is truly stunning.
Reviews:
"All-encompassing, brave, and deeply humane. . . . It is open-minded, critically informed, and poetic at the same time, and despite the nature of its subject it is written with far too much élan and elegance ever to become depressing itself." - Richard Bernstein, The New York Times
"The Noonday Demon is the ideal and definitive book on depression. There is nothing falsely consoling about this account, which is the opposite of a bromide, unless to be accompanied by so much intelligence and understanding is a consolation in itself." - Edmund White, author of A Boy's Own Story and The Flaneur
"An exhaustively researched, provocative, and often deeply moving survey of depression. . . . original and vividly recounted, Solomon writes engagingly; his style is intimate and anecdotal. . . witty and persuasive. Overall. . . The Noonday Demon is a considerable accomplishment. It is likely to provoke discussion and controversy, and its generous assortment of voices, from the pathological to the philosophical, makes for rich, variegated reading." - Joyce Carol Oates, The New York Times Book Review
Self-help books don't seem to work. Few of the many advantages of modern life seem capable of lifting our collective mood. Wealth―even if you can get it―doesn't necessarily lead to happiness. Romance, family life, and work often bring as much stress as joy. We can't even agree on what "happiness" means. So are we engaged in a futile pursuit? Or are we just going about it the wrong way?
Looking both east and west, in bulletins from the past and from far afield, Oliver Burkeman introduces us to an unusual group of people who share a single, surprising way of thinking about life. Whether experimental psychologists, terrorism experts, Buddhists, hardheaded business consultants, Greek philosophers, or modern-day gurus, they argue that in our personal lives, and in society at large, it's our constant effort to be happy that is making us miserable. And that there is an alternative path to happiness and success that involves embracing failure, pessimism, insecurity, and uncertainty―the very things we spend our lives trying to avoid. Thought-provoking, counterintuitive, and ultimately uplifting, The Antidote is the intelligent person's guide to understanding the much-misunderstood idea of happiness.
Reviews:
"Burkeman's tour of the 'negative path' to happiness makes for a deeply insightful and entertaining book. This insecure, anxious and sometimes unhappy reader found it quite helpful." ―Hector Tobar, The Los Angeles Times
"Some of the most truthful and useful words on [happiness] to be published in recent years . . . A marvellous synthesis of good sense, which would make a bracing detox for the self-help junkie." ―Julian Baggini, The Guardian
"The Antidote is a gem. Countering a self-help tradition in which 'positive thinking' too often takes the place of actual thinking, Oliver Burkeman returns our attention to several of philosophy's deeper traditions and does so with a light hand and a wry sense of humor. You'll come away from this book enriched--and, yes, even a little happier." ―Daniel H. Pink, author of Drive and A Whole New Mind
"Quietly subversive, beautifully written, persuasive, and profound, Oliver Burkeman's book will make you think--and smile." ―Alex Bellos, author of Here's Looking at Euclid
When Harold Kushner's three-year-old son was diagnosed with a degenerative disease that meant the boy would only live until his early teens, he was faced with one of life's most difficult questions: Why, God? Years later, Rabbi Kushner wrote this straightforward, elegant contemplation of the doubts and fears that arise when tragedy strikes. In these pages, Kushner shares his wisdom as a rabbi, a parent, a reader, and a human being. Often imitated but never superseded, When Bad Things Happen to Good People is a classic that offers clear thinking and consolation in times of sorrow.
Reviews:
"Whether religious or not, this book will speak because it touches–profoundly, but simply–on questions no parent and no person can avoid." —Harvey Cox, Harvard Divinity School
"When Bad Things Happen to Good People offers a moving and humane approach to understanding life's windstorms." —Elisabeth KŸbler-Ross
"A touching, heartwarming book for those of us who must contend with suffering, and that, of course, is all of us." —Andrew M. Greeley
"This is a book all humanity needs. It will help you understand the painful vicissitudes of this life and enable you to stand up to them creatively." —Norman Vincent Peale